How does a kid born in the early 80's become a Badger fan in an era of horrid teams and little coverage? Let me introduce you to my story of growing up a Badger fan!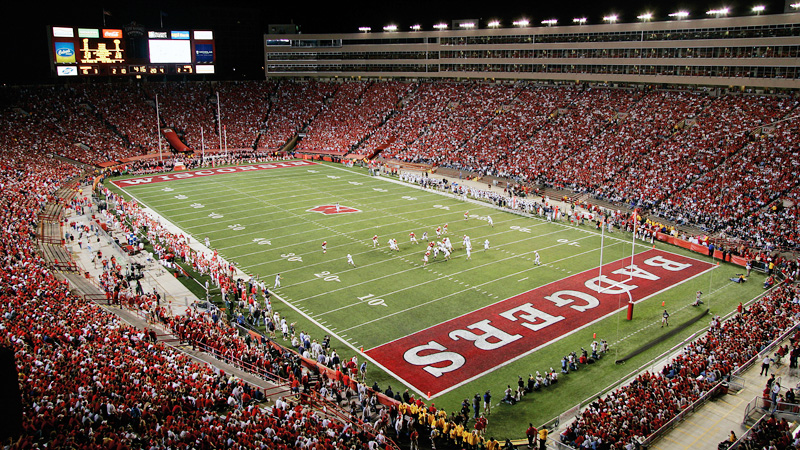 First off I would like to thank the fine folks at FanvsFan for allowing me the opportunity to become the editor here at WiscoBagers.com! With that said I think I owe it to the greater Sports Gods to let you in on my fandom and background as we move forward here.
I grew up in Green Bay, WI and have spent the vast majority of my 29 years on earth in the state of Wisconsin. Growing up in the shadows of Lambeau Field I was exposed early to how a passionate and knowledgeable fanbase should be and that's exactly what drew me into College Sports in general. However, growing up in the 80's it wasn't exactly the hey day of Wisconsin Athletics. Thankfully, some of my earliest memories growing up are helping my dad around the yard or with his hot rod from time to time on Saturday afternoons in the fall as we listened to the Badgers on the radio. Yes, I said RADIO, as most games weren't on TV back then and the Badgers were lucky to win more than they lost, including a few 1 win and win-less seasons. I was only a bit past my 2nd birthday when the Badgers last went to a Bowl game in 1984. Then came along this guy named Barry Alvarez to turn everything around. He struggled to win games at first, but in year four the Badgers turned into a force, going to the Rose Bowl for the 1st time in 32 years on Jan. 1st 1994. Thanks to my dad always having the game on the radio and the scant games that always seemed to feature the Badgers loosing to Michigan or Illinois I was hooked on College Sports and the Badgers for life.
Since 1994 this state as had an ever growing love affair with the Badger football program and has had an amazing love affair with it's basketball and hockey teams all along. It's been great growing up a Badger fan insulated in this state, but I didn't experience the power of Badger Nation until I left the state to attend Iowa State University in tiny Ames, IA. Being the Badger fan that I am I quickly found a good watering hole to watch the games at and was amazed to find the amount of Badger fans that were there for the same experience and helped to ease the homesickness with a bit of Wisconsin in Ames. On any given Saturday you'd find 50-100 Badger fans ready to eat, drink, and cheer extra loud for the Badgers. On occasion we'd sneak in a beer barrel polka and Jump Around. I even was able to pull a fraternity brother or two over to the Badgers as a 2nd team to our Cyclones. After coming back to Wisconsin full time it's been fun to continue the love affair with the Badgers and attend more games than ever before in Madison. No matter where I've been Badger fan is a unique and unrivaled bunch and I'm proud to be one of them.
As for this blog I hope to bring you a ton of opinions and interviews on all things Badgers. I will be focusing mainly on the football, basketball, and hockey programs but will look to feature all 23 sports at least once or so throughout the year. Look for recruiting updates and all sorts of extra fun stuff along the way as well. I hope you'll take this ride with me and let's have some fun along the way!!